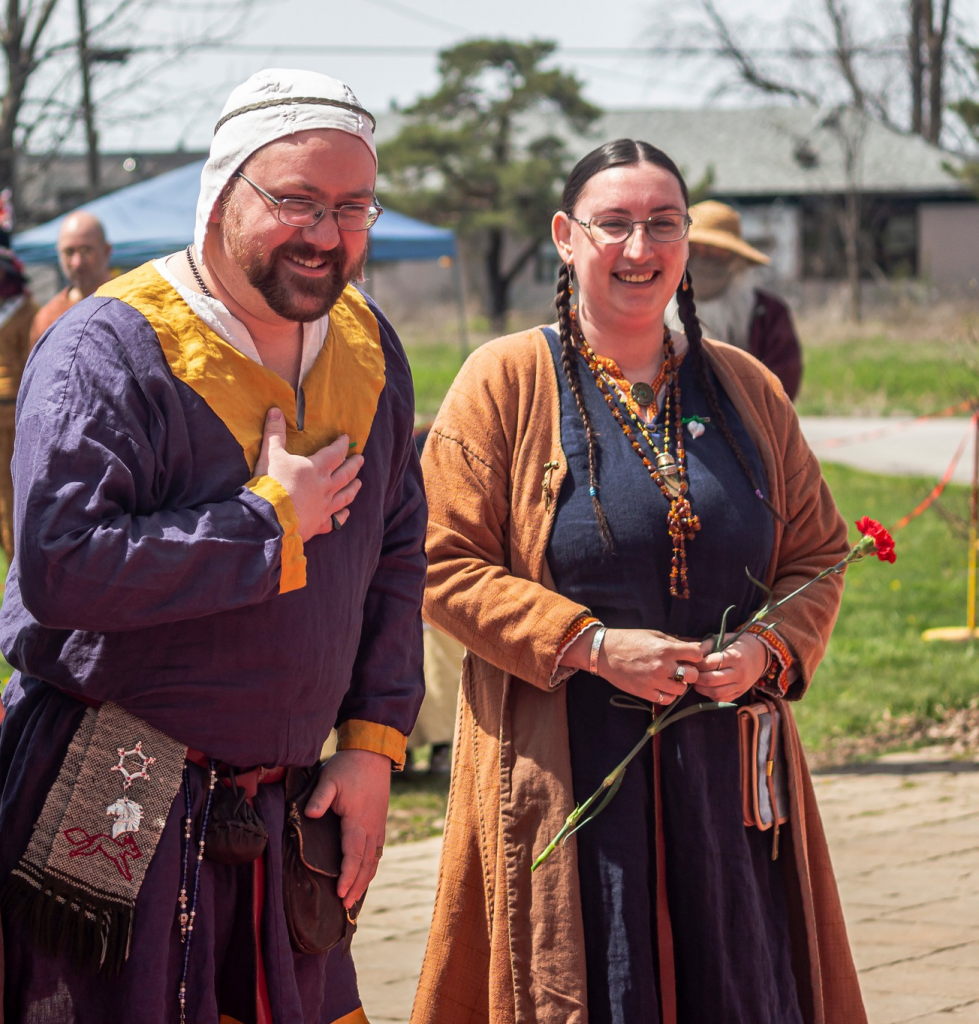 Ollamh Emer ingen uí Áiden, OL
and
The Honourable Lord Dietrich von Sachsen
Ollamh Emer ingen uí Áiden, OL, (she/her) is a bard, seamstress and craftsperson of Ealdormere, serving in the SCA for over 25 years. Beginning in Trinovantia Nova when it was still part of Ramshaven, she has also lived in both Greyfells and Eoforwic and has resided in Bryniau Tywynnog for the past 10 years. While Emer has tried out a variety of combat activities, and greatly enjoys thrown weapons, she has primarily devoted herself to the Arts and Sciences. A costumer, spinner, weaver, embroiderer, jewelry maker and constant dabbler, her first love is the bardic arts, focusing on songwriting and medieval poetry.
The Honourable Lord Dietrich von Sachsen (he/him) has been a subject of the Barony of Ramshaven since joining the Society in the winter of A.S. 42. In the years since, he has been active in the armoured combat, heraldic, and bardic communities, as well as an eternal dabbler in various arts and sciences.
Emer and Dietrich have been active serving their communities in various roles. Emer has served as Arts & Sciences minister, Chatelaine, and Chronicler; Dietrich has been Bryniau's clerk-register, Green Mantle herald (the Submissions herald), Red Escutcheon Pursuivant (the armoury education herald), and Guild Minister of the Royal Moneyers' Guild of Ealdormere. Both have served as Baronial and Kingdom Bards and helped run events.
Ramshaven has not only been their home, but has been incredibly welcoming and supportive, and they are looking forward to an opportunity not only to give back, but to help facilitate those Capital-M Moments that makes the Society so special to all of us. To that end, their three main goals for seeking the high seats are:
To encourage and support that emotional "buy-in" that comes with inspiration;
To support DEI and Accessibility development in the Barony and the Kingdom; and
To support initiatives to help improve member recruitment and retention.
Emer's persona is a 7th C Irishwoman from Alba with kin in Ulster, except when she's a 9th C Irishwoman living with the Norsemen, or happens to be trying out yet another period's clothing. Dietrich, in turn, is a mid-13th century German noble and former guest crusader to the Teutonic Order in Prussia.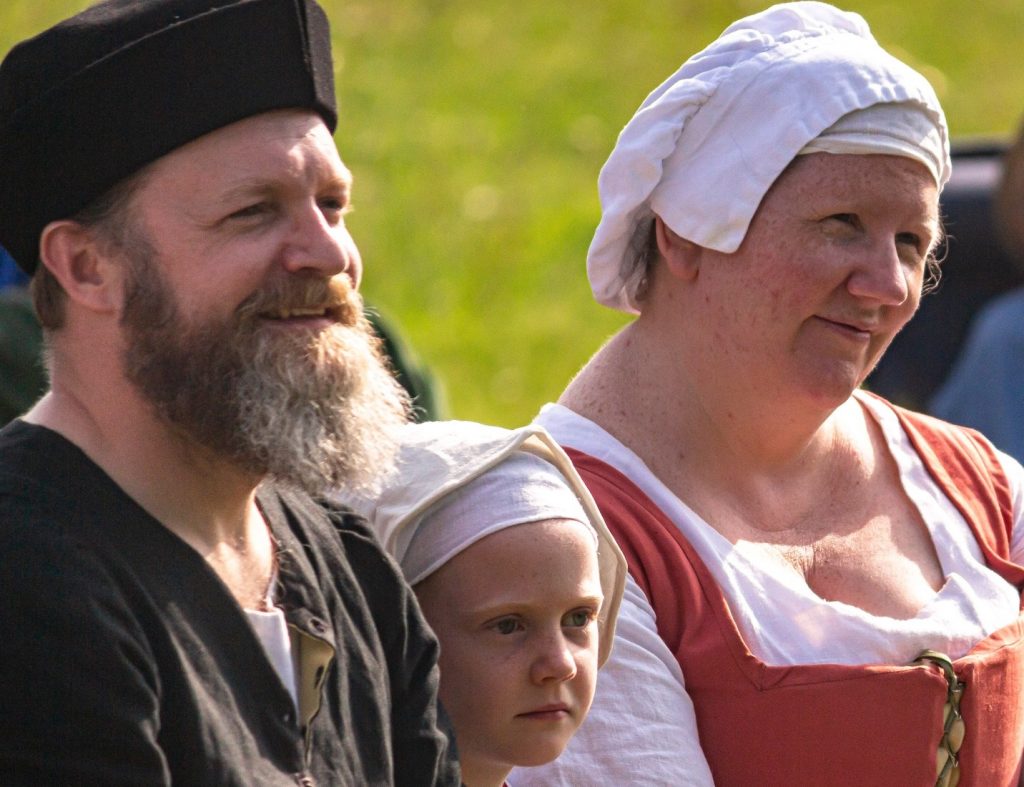 The Honourable Lord Henry Foster
and
The Honourable Lady Bridget Larkin
Unto the most Noble people of Ramshaven do Henry and Brigit send warm greetings,
The season of change is approaching as Their Excellencies Penn and Lucia are coming to the end of their tenure. We are honoured to put forward their names to be considered as part of the selection process. They are excited to run alongside longtime friends, Emer and Dietrich, and appreciate your time in taking part in the selection process as voting members of Ramshaven.
The Honourable Lady Brigit Larkin (she/her) has been active in the SCA for more than 25 years, first in the Shire of Trinovantia Nova, throughout Septentria as she attended university, and for the last 20 years, in the Barony of Ramshaven. The Honourable Lord Henry Foster (he/him) began with the SCA about 20 years ago in the Barony of Ben Dunfirth, but has been serving the Barony of Ramshaven for the last 15.
Consistent service to the Cantons, Barony, and Kingdom has been a hallmark of their time in Ramshaven, with Brigit currently serving as Baronial Seneschal and previously as a Seneschal and Arts & Sciences Minister at both levels, while Henry has served as Baronial Exchequer, Clerk-Register, and Kingdom Lord Clerk-Register. He is currently a Canton Exchequer and Clerk-Register.
Equally, they are ardent patrons and participants in the Arts & Sciences community. Brigit (known as Bodice-Flinger) is a seamstress, embroiderer, and wayward bard, while Henry works in leather and wood – as well as obsessing over whatever brilliant new thing he has discovered that month. Both have participated in various combat arts, including heavy fighting, fencing, and archery.
Stability despite change. Modern society is changing and so must ours. Brigit and Henry feel strongly that the future health of the SCA lies in recruiting and retaining new members. To that end, it is imperative that our Cantons, Baronies, and Kingdom are places where everyone is both welcome, and are able to find their place and people. They believe that the Baron and Baroness should serve as a focal point for the people and activities of Ramshaven, both veteran members and new. Brigit and Henry plan to continue to celebrate recent diversity and equity efforts, and will find new ways to integrate those efforts into our existing traditions to ensure that everyone feels honoured and valued, as well as increasing the accessibility of our "game". There is room for all. Finally, over the past few years the plague has made the separation between the Baronies feel so much greater than it once was. Brigit and Henry seek to redress this trend by encouraging new inter-Baronial ties – competition, rivalry, cooperation, and perhaps a good bit of theatre.
Brigit Larkin (Heather she/her) is an Irish immigrant transplanted to the Southeast of England as a Lady-in-waiting during the first half of the 16th Century. There she wed Henry Foster (Noel he/him), a forester in the employ of her Lady's Household. Now, in Ealdormere, they maintain their own small holding and raise their daughter Mary (Lucy she/her).