Feast, drink, and be merry while enjoying the most wondrous Great Hall experience!! Please join us in celebration of the Coronation of Steinarr and Margraig.
There will be a momentous display of the arts and sciences with prizes at the Hedeby Trade Exhibition celebrating the geographic and cultural diversity of 'Viking' expansion. Please bring your talents to the show.
There will be a children's activities area as well as opportunities to assist with lighting up the Great Hall and serving feast throughout the day.
Weather permitting, there will be marshal activities, midafternoon in the great outdoors. Please bring your toys for fencing, armored combat, and thrown weapons out for some practice time.
No pets, please.
Location: 1240 Concession Rd 6, Tiverton ON (Underwood)
Time: Saturday, April 29, 2023 9 AM – 7 PM
Hosted in the Barony of Ramshaven, by the Canton of Northgeatham
Fees
Entrance fee for the day including feast is $35 per adult
$30 for members
17 and under free
All Day Feast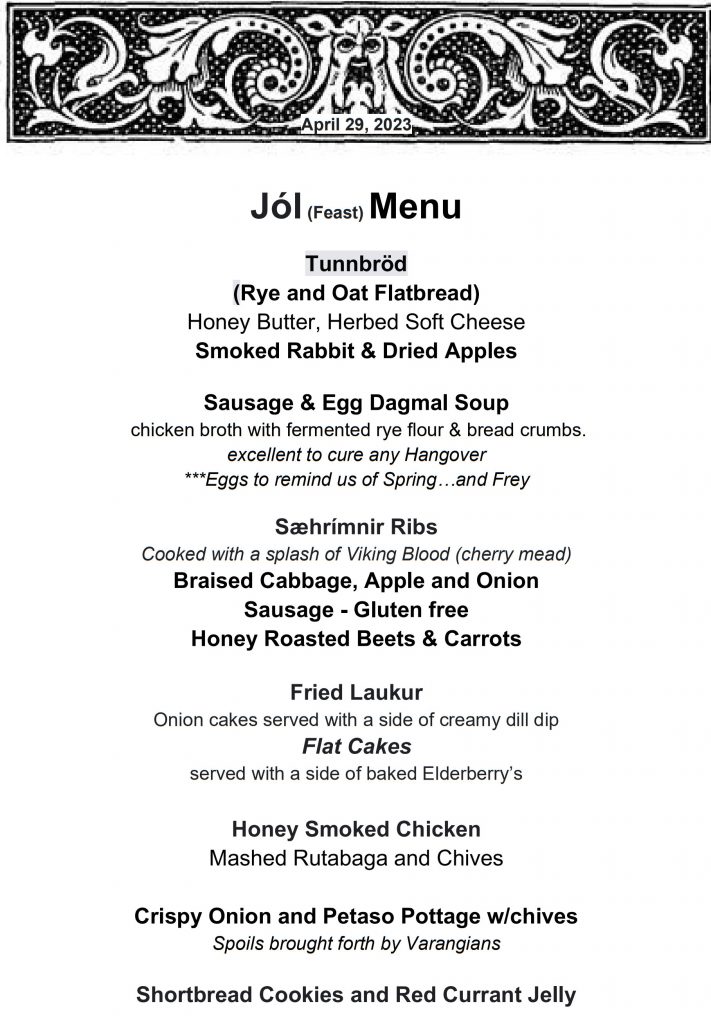 A complete list of ingredients can be found here.
Please reserve in advance with Christiana Mundegumry (christianagalbraith@gmail.com). This helps us determine how much food we need to make!
There will also be a banquet table with a few different things brought out throughout the day that are not on the menu. Samples include: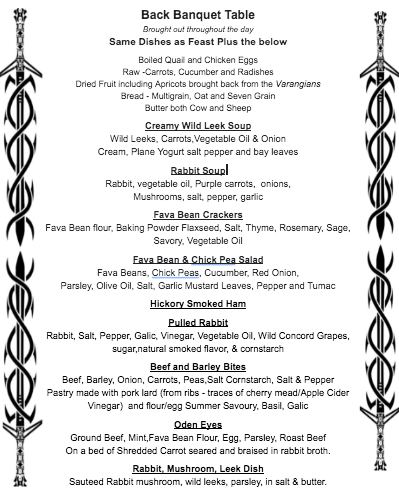 Bar: An assortment of alcoholic and non-alcoholic beverages will be available for purchase. A list of beverages can be found here.
Activities
The Coronation Ceremony will be held indoors and is based around a Norse Feast Celebration in a Great Hall setting. All guests are invited to sit feast and enjoy the ceremony and court. The hall will be candlelit and decorated with banners and tapestries. You are encouraged to bring additional candles for your spot in the feast hall. Fire is permitted (and encouraged) so long as it is safely contained.
During the feast, a variety of entertainment will be provided in the form of Music, Dance and Storytelling.
Schedule
Hall opens at 9am
Wandering, socializing, and entertaining are encouraged throughout the event.
Coffee and Tea available at the bar. Donations welcome.
Cash bar open
A&S Participants please set up your displays before 10am
10:45 am: Queen Kayla V and King Trumbrand V will hold Their final court.
Please choose a seat in front of the Thrones.
Morning court concludes
Populace, please take your chairs to your assigned table, light your candles if you brought one (there will be candles provided), and set up your feast gear for the Great Hall experience.
Crowning Ceremony: HRH Steinarr and HRH Margraig take up the Crowns, becoming Majesties of Ealdormere
Feast begins!
Bringing out Banquet table dishes (for back of Hall) Approx 12:00
Note that all are welcome to snack from the Tasting Table. Some dishes will be the same as what is being served for feast and some dishes are dietary friendly, and some dishes are a creation of whim.
Ramshaven Court
Mid afternoon: Marshal activities in the form of practice, weather permitting.
A&S display winners to be announced, prizes presented
Largesse and gifts to be presented in court
Hall closes at 7pm
Merchants
Cellar Horde, Full Moon Mercantile, Needle Works by Florence ,and Magdalaina's Jewels.
Event Staff
Court Herald: Dùghlas Mór Mac Séamus
If you have questions about court business, please contact Séamus (corbiecaller@gmail.com)
Troll: Wulfwynne (trweirmeir@gmail.com) of the Blackwood and Anne du Lac
Feast Warriors: Cheddar de Brie and Christiana Mundegumry
Reservations to Christiana Mundegumry (christianagalbraith@gmail.com)
Bar: Penda of Glindemere (mark.pasley@gmail.com)
Head Server: Rozi Galea (rozigalea@gmail.com)
If you wish to help serve feast or your children would like to take part in being "children of the light" please register with Rozi.
Master of Ceremonies : Robyn Whystler (shawnjoh@hotmail.com)
If you wish to perform in the Great Hall, please inform Robyn and he will ensure you are heard.
Wranglers of the A&S display: Aslief of Ramshaven and Henry Foster
If you would like to participate with your work, largesse, or project unfinished, please do so.
Reservations: henryandbrigit@gmail.com
Autocrat: Sibylla of Glyndmere (tamara.pasley@gmail.com)
Co-autocrat/Great Hall transformer: Wulfric of the Blackwood (trweirmeir@gmail.com)
If you would like to help moving things around, please contact Wulfric.