Feast, drink, and be merry while enjoying the most wondrous Great Hall experience!! Please join us in celebration of the Coronation of Steinarr and Margraig.
There will be a momentous display of the arts and sciences with prizes at the Hedeby Trade Exhibition celebrating the geographic and cultural diversity of 'Viking' expansion. Please bring your talents to the show.
There will be a children's activities area. Merchants are welcome.
No pets, please.
Location: 1240 Concession Rd 6, Tiverton ON (Underwood)
Time: Saturday, April 29, 2023 9 AM – 7 PM
Hosted in the Barony of Ramshaven, by the Canton of Northgeatham
Fees
Site Fees:
Entrance fee for the day including feast is $35 per adult
$30 for members
17 and under free
Although not required, please reserve in advance with Sibylla (tamara.pasley@gmail.com). This helps us determine how much food we need to make!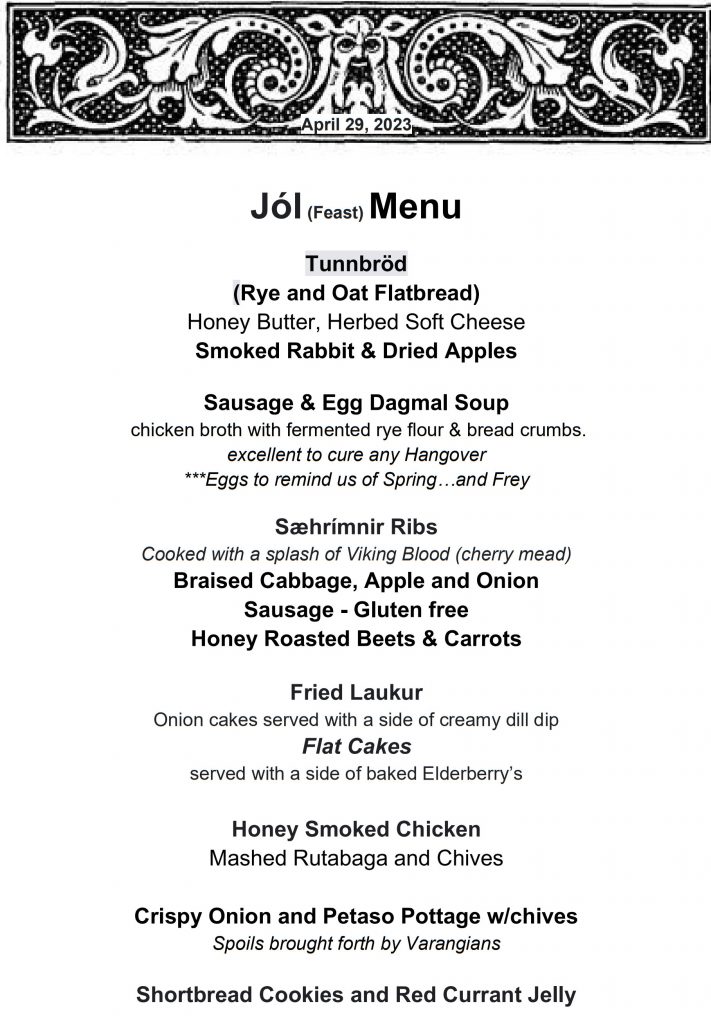 There will also be a few banquet tables with a few different things brought out throughout the day that are not on the menu. Samples include: Raw Veg-cucumber radish and carrots, Pickled things, Died Fruit, Fava Bean Crackers, Boiled Chicken and Quail eggs and a Fava Bean and Chick Pea Salad.
Bar: An assortment of alcoholic and non-alcoholic beverages will be available for purchase.
Activities
The Coronation Ceremony will be held indoors and is based around a Norse Feast Celebration in a Great Hall setting. All guests are invited to sit feast and enjoy the ceremony and court. The hall will be candlelit and decorated with banners and tapestries. You are encouraged to bring additional candles for your spot in the feast hall. Fire is permitted (and encouraged) so long as it is safely contained.
During the feast, a variety of entertainment will be provided in the form of Music, Dance and Storytelling. If you would like to perform, please contact Sibylla (tamara.pasley@gmail.com).
Event Staff
Autocrat: Sibylla of Glyndmere (tamara.pasley@gmail.com)