Announcement!
As of January 2022 the Cataract has been converted to an online blog. If you would like to submit a blog post please email
Once every 3 months a digest version of the blog posts will be sent off to the Cataract E-Subscribers mailing list. If you would like to be added to this list again please contact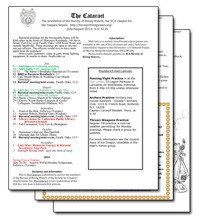 The Cataract is a quarterly newsletter published by and for the members of the Barony of Rising Waters of the Society for Creative Anachronism, Inc.
The Cataract includes:
The Official Calendar of Events
Letters from our Baronial Officers
News about the Barony of Rising Waters
Event flyers
Articles on medieval-themed subjects
2023 Issues
2022 Issues
2021 Issues
2020 Issues
---
2019 Issues
---
2018 Issues
---
2017 Issues
---
2016 Issues
January/February Issue
May/June Issue
September/October Issue
---
2015 Issues
2014 Issues
---
---
Older editions of The Cataract can be found in the files of our Yahoo Group.